You can have Happiness with your iPhone/iPad/iPod Touch!
Happiness is not something you are born with, nor is it beyond your control.  Happiness: A Guided Meditation can help you learn to let go of what isn't serving your needs and focus on what makes you happy.
View "Happiness: A Guided Meditation" in the iTunes App Store
What does it do?
The application includes a customizeable series of audio tracks that guide you to calmly focus on improving your mood and outlook on life including two different guided relaxation tracks, a core session with different ways to improve mood, and an awakening segment. In addition to becoming more relaxed, you can gently and gradually release layers of resistance and perceived obstacles to feeling good more often.
How it works
Happiness guides you to a relaxed state where you can more easily consider and even rehearse practical ways to be happier.
All it takes is 15 minutes and a comfortable position using headphones or the built-in speaker. You can close your eyes during the session or keep them open and enjoy the soothing visuals and move the circles to influence the atmospheric sounds.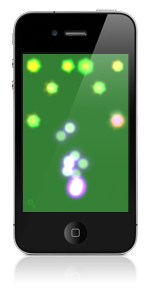 You can listen to your own music during a session. To do this, open the "iPod" app and start playing music. When you exit the "iPod" app your music will continue playing. Once you launch Happiness, it will detect the iPod music and automatically lower the volume of the ambient sounds. Then you can listen to your session as you normally would.
Other HypnoSage guided meditation applications:
Self Hypnosis: What would you like to change but haven't?
"Made by someone who really knows what it is all about. A great app!" – Norway iTunes Reviewer
"Professional self-hypnotism tool. Music and guiding voice are just right." – US iTunes reviewer
"Hypnotic induction and instructions were very professional" – US iTunes reviewer
Meditation: Mindfulness Made Easy – because life can be easier!
(c) 2010 HypnoSage.com and xinsight.ca