"Gravity Massage"
for Private Clients, Small Businesses, Events, and Training for Personal Use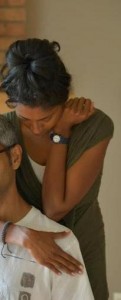 With roots in yoga massage and shiatsu, HypnoSage Bodywork incorporates meditation and self hypnosis to release long-held physical tension.
I deliver uniquely firm, client-driven massage. I have basic shiatsu training and decades of experience but no formal certifications, so I ask clients to communicate all needs and sensations throughout. My bodywork is not covered by most forms of paramedical health insurance.
I say "yoga massage" because I have not been trained in "thai yoga massage" but rather I use yoga-based techniques that allow me to use assisted stretches and the body's natural resistance.
I say "shiatsu" in a very global sense because I use my body weight, core strength, gravity, and the hold-release pulsing-travelling technique of applying intermittent pressure in addition to long holds and assisted stretches. However instead of meridian points, I use broad pressure on muscle groups with my "mother-daughter" thumbs/hands, forearms, palms, elbows, knees, skull, and even my sitz bones: yes, I sometimes sit on people when it makes sense to do so. Here's a demo (and lesson!) of my work.
It's up to you to tell me how firm you like the pressure, how fast/slow, broad/sharp. Up-down, left-right, hold-stop, you name it. You may like "good pain", but pain can cause resistance and fear in the body, which can be counter productive: I don't want to go past a 5 out of 10 on a scale of impact.
Sometimes I incorporate my favourite [self] massage tools – the Acuball and Acuball Mini (www.Acuball.com). These were developed by a chiropractor friend of mine (Dr. Michael Cohen) and they changed my life so much that I teach people how to use them for self-massage and I also use them as a massage tool on others in addition to having them available for sale (instructional DVD included).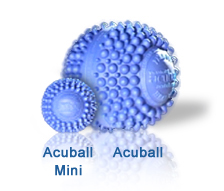 I offer a group experience of this work called Meditative Massage in which I guide a group to access mind-body release using meditation, self hypnosis, yoga, and self-massage techniques (with or without external aids). I use the same techniques with bodywork clients who do not like deep pressure but have the same need to release tension both physically and mentally.
This work can be done in any location when the client is fully clothed. I have worked in private contexts, at street festivals, on the floor, in yoga studios, using a stool or chair, at house parties, on the couch coffee table bench, against the kitchen countertop… I can mash a body anywhere, any time. Let's get that old junk out of your body already! Children are welcome to tag along if you are having trouble making time for the usual clothes-off, face-down massage appointment.
At my Dufferin & College location in Toronto, Canada, I work with yoga mats on the floor and sometimes the couch or on my bed. Bodywork clients should be comfortable lying or sitting on a yoga mat. My work is done in full clothing but will be easier without hard obstructions like belts and buttons.
The fee is the same as private hypnosis sessions – $80 per hour plus a few extra minutes for some pre and post discussion and movement. I also offer sliding scale rates during weekdays as time permits.
I offer massage at events for a flat fee up front depending on the venue date and location. Alternatively, I can offer massage for a dollar-a-minute to guests at no cost to the host.
I'm happy to answer any questions about my massage or hypnosis services and look forward to being of service in your quest for physical and mental freedom.
Here's a video of me as 'massage queen' at Kensington Pedestrian Sunday (photos below by YvonneBambrick.com) and 'massage ninja' (photos by Phillip Smith):