Register for upcoming workshop notification | Schedule a custom workshop
Regular monthly workshops follow themes based on participant requests. The most popular workshops are Self Hypnosis, Emotional Management, Meditative Movement, Confidence, Self Massage, and Weight Management.
I offer Meditative Massage at Kensington Pedestrian Sundays – a pedestrian-only street fest in Kensington Market on the last Sunday of every month in May to October. The streets are yours from 12 – 7 pm.
An easy way to add novelty and instant change to your workplace, event or bring traffic to your venue.
In group sessions and self hypnosis workshops, no personal details are required; participants are prompted to mentally fill in their own details in silence during the guided session. These sessions can be from 30 minutes to 3 hours in length. I also customize onsite sessions for groups with similar goals. For example, the sales team might want to enhance their listening abilities or comfort in networking situations. Employees benefit from sessions tailored to address their typical stresses or enhance productivity and work-life balance. I help performers in arts and athletics to improve confidence, focus, and memory. The only facility requirements are chairs or mats in a room where we will not be interrupted. The possibilities are vast wherever there is room for improvement. I also facilitate Group Goal Scripting for those who don't want the relaxation component because this "intake process" alone can trigger movement in the desired direction.
Broach it – an emotional awareness workshop on offer at your meeting place.
"Tanya was very patient in answering all questions (and I tend to ask a lot, hey I'm a teacher:))" (Frank D)
Lunch & Learn Workshops for Organizations and Groups
An informal and convenient way to add personal development to your lunch break. This can be any combination of info session, self-hypnosis workshop, and group hypnosis demonstration.
Self Hypnosis Workshops – All hypnosis is self hypnosis. I teach private and group workshops on how to use hypnosis on oneself to effect emotional or behavioural change or achievement. I provide the basic principles and some easy techniques to help those who wish to ensure their thoughts are not sabotaging their goals.
"You will find in Tanya an amazing guide. Tanya – it is wonderful what you do and I got more clarity after your meet up. Congratulations for what you do, you are amazing." B.I.
Breakout and Plenary Sessions
Add powerful change and personally resonant fun to your organization's team building, training, retreat, or annual event. These group sessions range from 1-2 hours each or half and full-days of retreat-style breakout sessions for interactive inspiration. Any aspect of worklife that staff can improve or enhance is fair game for hypnotic attention.
Hypnosis for Special Events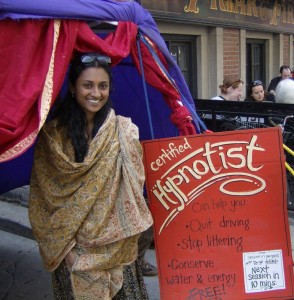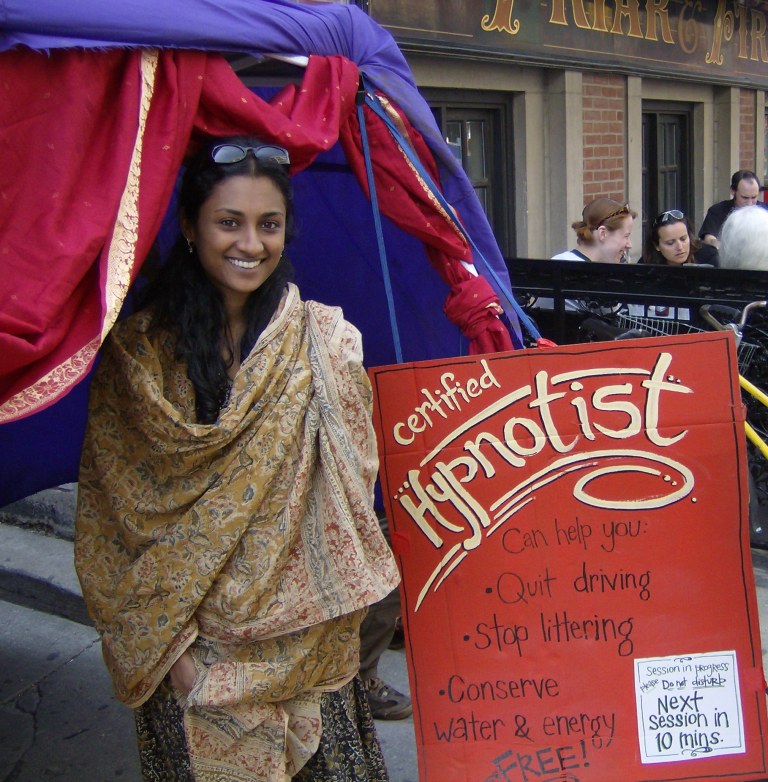 Hypnosis suggestions can be applied to special purposes (e.g., events about climate change) as a novel way to engage attendees of any number without inducing a trance state. This is not to be confused with stage hypnotism where the power of trance is used as entertainment; I customize guided group meditations on the subject at hand based on desired goals or themes. A sample public application is a circus-style tent or booth where hypnosis scripting is used to promote environmentally sound behaviours. This type of setup functions as both a novel installation and a sincere opportunity for change. Another example would be a group intake interview about how to shift eating patterns at a health trade show (no trance state required). Group size is limited only by sound and space resources. I have been continually surprised by the human capacity to tune out general noise and surroundings.
Hypnosis for Free
I provide free hypnosis to those in need via non-profit support organizations. I also offer Hypnosis gift certificates as raffle prizes for charitable causes and events.